As of this week, we've had a banner year for caterpillar raising.


In July, we raised 29 Cabbage White Pieris rapae caterpillars and eggs found on a weedy mustard with yellow flowers in our yard.


P. rapae caterpillar on mustard Brassicaceae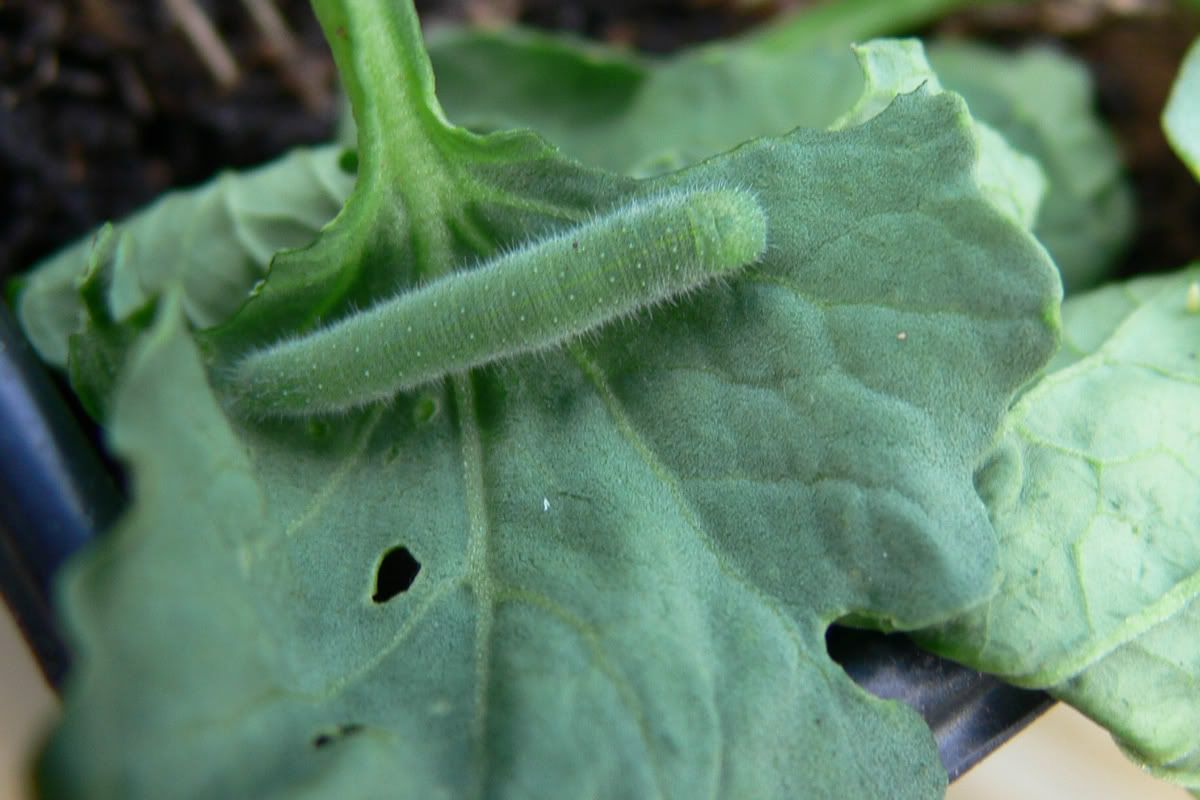 P. rapae chrysalis. The "silk support girdle" is just barely visible around the middle. The chrysali ranged in color from green to brown.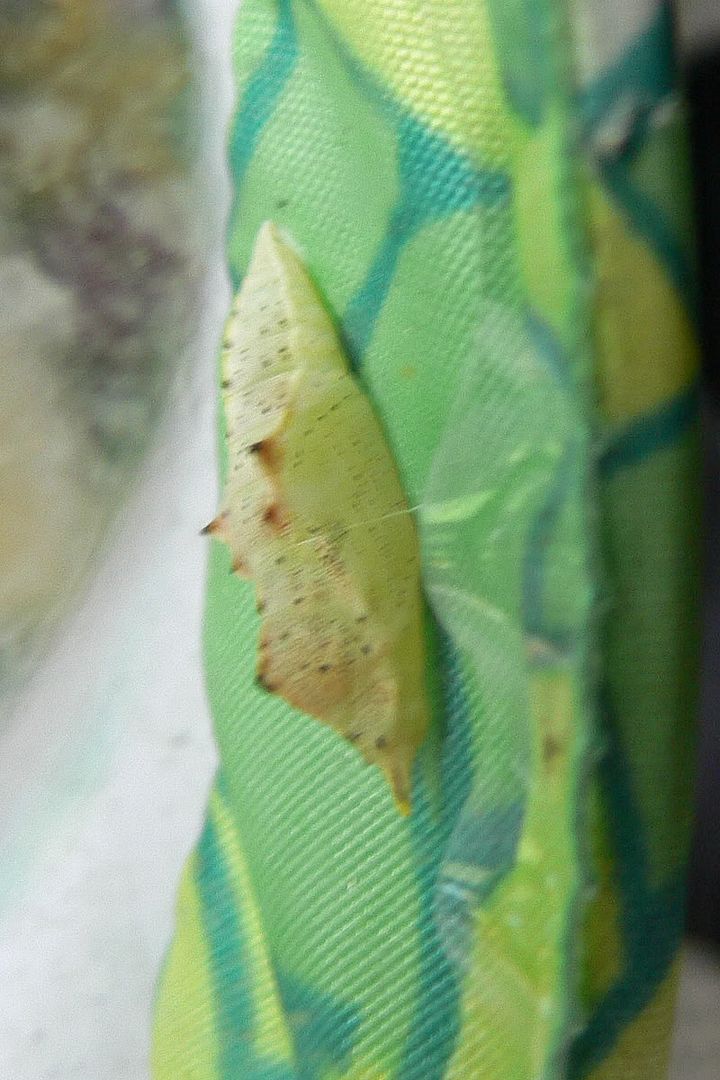 Two weeks ago, I found a momma Variegated Fritillary Euptoieta claudia laying eggs on some violets; I collected 2 and now have two cats.


E. claudia caterpillar on Violet (viola sp.)


Then we found a Spicebush Swallowtail Papilio troilus egg, which hatched yesterday.


P. troilus egg on spicebush (Lindera benzoin)
Freshly hatched P. troilus with egg chorion still on him. Within two hours, he had consumed the egg-shell and was much darker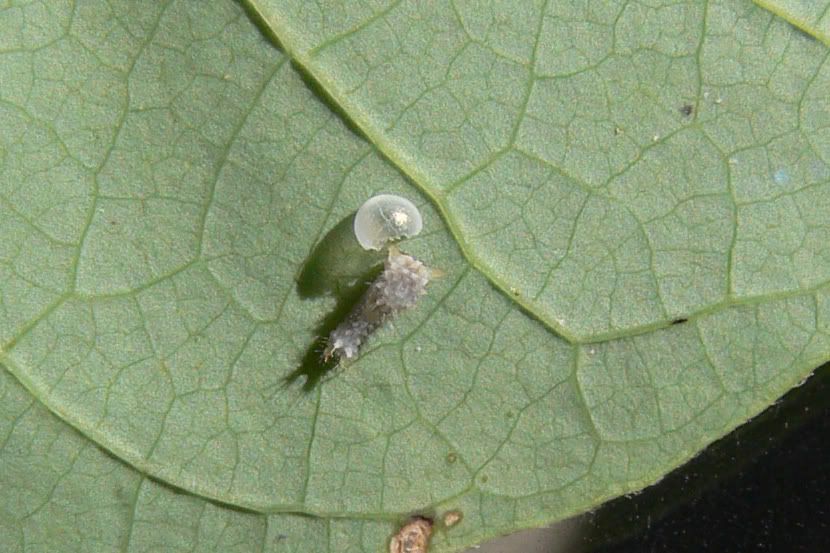 Then followed a veritable army of Milkweed Tussock Moth Euchaetes egle caterpillars. We're raising ONE and ONLY ONE.


The lucky Tussock Moth cat. He looks ready to pupate.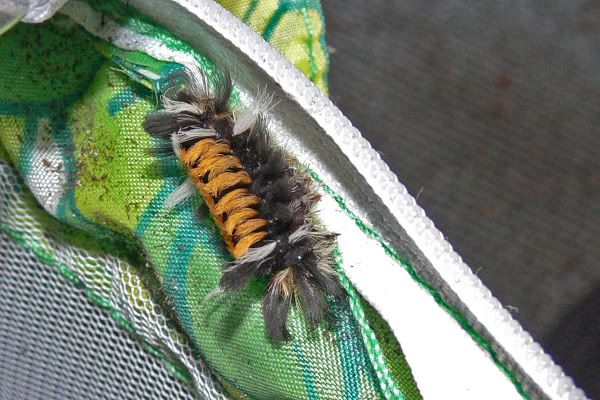 Then, three days ago, I saw a Monarch Danaus plexippus laying on the newly planted swamp milkweed. YES! With all said and done, we have 39 Monarch caterpillars and eggs. Yikes!


One batch of collected D. plexippus. Leaves on the left have cats; leaves on the right have eggs.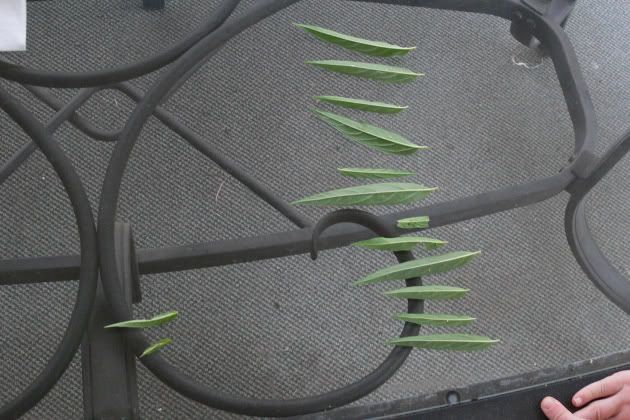 D. plexippus egg ready to hatch. Note the ribbed, cylindrical shape that contrasts with the spherical shape of Papilio eggs.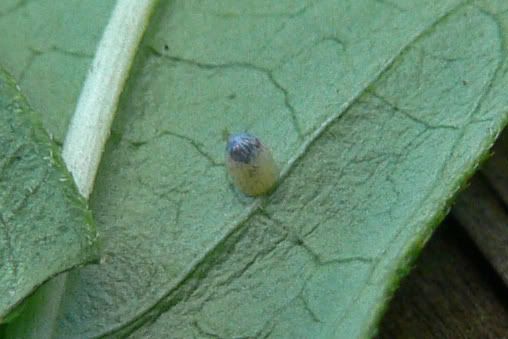 D. plexippus caterpillar consuming eggshell right after hatching
D. plexippus caterpillar hanging out on Swamp Milkweed (Asclepius incarnata). The hand is a child's, for size comparison.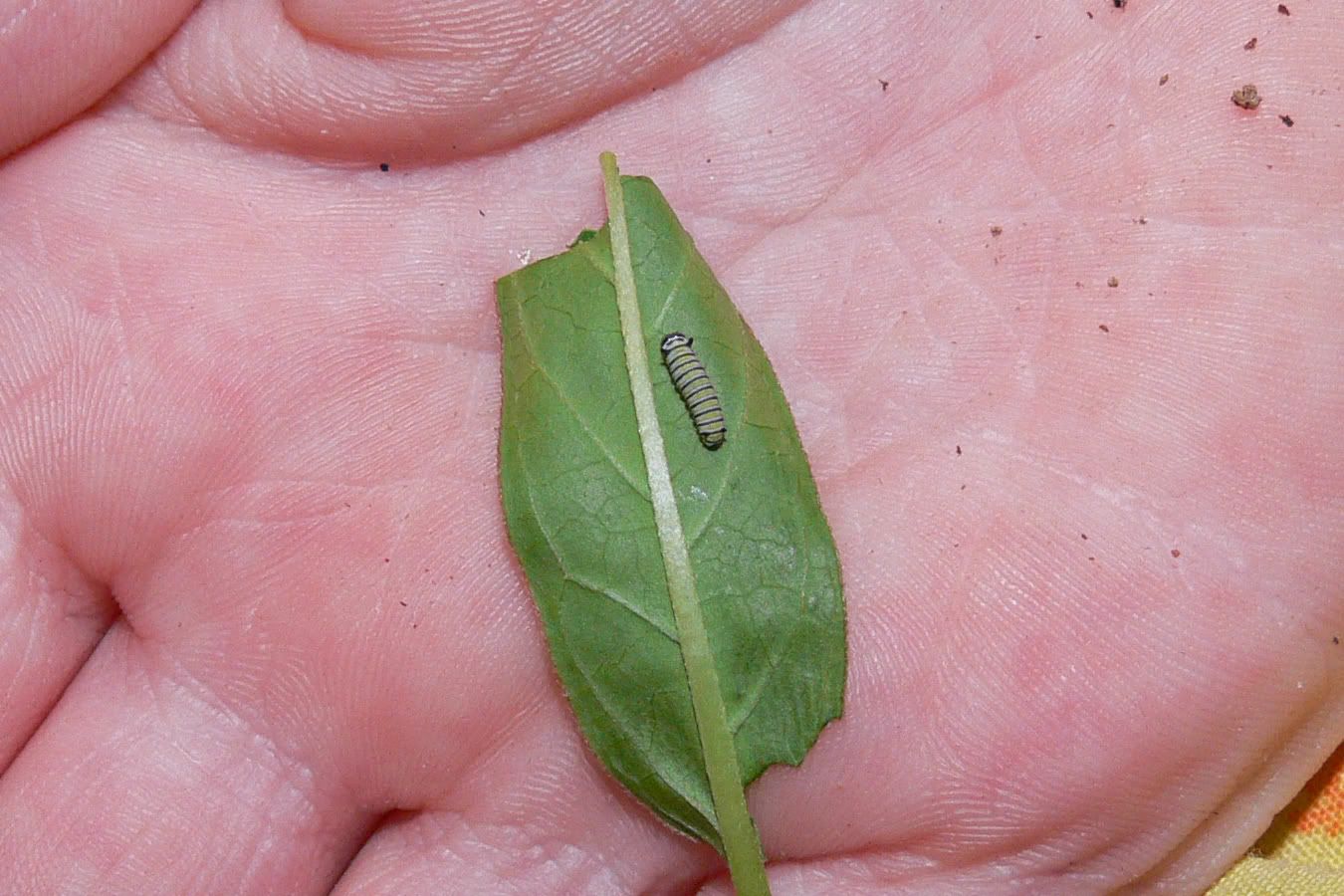 This is a record for both number of species raised (4 5 6 7) and for total number of cats raised (72 legion, if all are successful).

Update: we've continued to find Monarch cats on the Asclepia incarnata. Go milkweed! Also, the dill produced a large Black Swallowtail caterpillar who will probably be a chrysalis by morning. I've also found a couple of Common Sootywing cats on lambsquarter, but I'm leaving them to overwinter in their leaves.

Update 10/23/08: In the end, many of the Monarch eggs didn't make it. It was my fault for putting the day-old caterpillars in with larger ones. They simply disappeared, and I fear they were cannibalized. With all that, we released 36 healthy Monarchs, 2 Variagated Fritillaries, and 29 Cabbage Whites this year, and we have one pupa each of Black Swallowtail, Spicebush Swallowtail, and Tussock Moth that are overwintering.

JRC
Read more...